For most, working day in, day out with some of the most beautiful women in the world is nothing more than a fantasy. But for Derrick Pierce, it's his reality.
One of the most talented and respected names in the adult industry, Pierce has continually expanded his empire by not only acting in mainstream films but is also a member of the coveted Screen Actor's Guild while establishing an all-inclusive CrossFit affiliate – CrossFit Drop – as a certified trainer.
Needless to say, Derrick Pierce is living the life and understandably enjoying every moment.
The actor sat down with us here at Guy Hut to talk about what's going on in his career, which you can check out below.
Guy Hut: As a former certified personal trainer and martial arts instructor, what was behind your decision to get into the industry?
Derrick Pierce: Well it was split between curiosity & money. I was dating someone who was already in the business, so with some gentle prodding, I tried it out. I also wanted a change of pace… Course that's exactly what I got LOL.
Guy Hut: Not only have you trained both WEC and UFC fighters, but you love the sport obviously as well. Who are some of your favorite fighters and are there any up and coming names you see making an impact in the sport?
DP: I kind of cling to some of the old school guys like Fedor. The guy was not only a icon, but a fully respected, tried and proven LEGEND. There hasn't been one since, but there are a few front runners. I've always been a DC fan, as well as Kane.
GH: Tell us about Crossfit Drop and how that all came together.
DP: Crossfit Drop was a thought that I had to make an all inclusive gym. Mobile Drop came around after I had closed my martial arts school. I was really upset that I had no way to "preview" the area that I wanted to operate in, without committing to an extensive lease etc. I have been involved in personal training & martial arts for almost twenty years. I had never seen an option for your gym to actually show up at your location. Not a fully functioning one anyway. Usually it's some trainer with a few kettle bells & some resistance bands. So I designed the layout and all of the design points. Then my guys at I3 Designs took the project and reached out to Jeff at Creative Customs, and we built the damn thing. It's a one off all the down to the wheels.
GH: Who are some of your favorite people to work with in the industry? Is there anybody you haven't had a chance to work with yet that you're wanting to?
DP: There are way to many list but off the top of my head, Maddy O'Reilly, Eva Lovia, Danni Daniels, Phoenix Marie, Olivia Austin, Jessica Drake, Asa Akira…..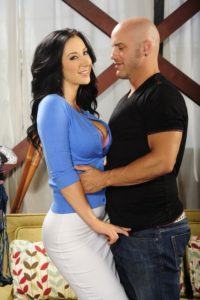 GH: In addition to staring roles you've also worked behind the camera quite a bit. What's your favorite thing about directing?
DP: Directing basically allows me to be the biggest deviant pervert possible. I can ask the talent to do whatever pops into my head and as long as they don't have a problem with it, it happens! That's really cool.
GH: Talk to us about the upcoming movie you're staring in, 'Cowboys & Engines'.
DP: So the director of the movie Brynn Prior (Eli cross) calls me & says "hey! I have a role for you in this steampunk action movie I'm doing". So of course I say lets do it! The props were super cool. I play a villain by the name of Iron Mike, who has these pneumatic type of "arms" that are totally badass. So the main character & myself have this huge face off on this killer bridge where I end up throwing him over the side.
GH: Do you follow any sports teams and if so, who do you root for? Be it teams or players. If so, what are you expecting from them moving forward?
DP: I'm a casual Bears fan, but I get most of my info from "inside the NFL" LOL.
GH: What's keeping your attention from an entertainment standpoint – any favorite music or movies right now?
DP: Movies? I try to hit the movies every week! I'm easily entertained so it isn't a big feat. If the story line an alien that wants to be president and has the cure for cancer? Cool, let's watch and see what happens, I'm in. I just dig the activity of actually attending the movies. Checking out for two hours is really good for me. No phone, emails or texts.
GH: We've heard you're into video games – any specific type of games or just whatever is fun at the moment?
DP: I have been on GTA 5 for some time now. But I play a few different things. I wish they would come out with a new Deadpool game for PS4.
GH: What's the best piece of advice you've ever been given?
DP: That's easy. My mom once told me something when I was in my late teens, and my answer to everything she ever said to me was "ok", "I know", "I got it", "yeah,I already know that". She turned to me said "well then you better hurry up and do everything you can, while you still know it all".
GH: If you could pick any three people to have a dinner date with throughout the history of time, they would be?
DP: MLK, Rockefeller and my Mom.
GH: Cars and motorcycles are a passion of yours – tell us about your dream bike and/or ride.
DP: Dream car? 66-67 Chevelle, early 90's Land Rover Defender. Koenigsegg as a brand, I would take anything from that maker.
Bikes? I have one of my dream bikes, the KTM RC 8. I am building my second dream bike, single sided swing arm Ducati cafe racer. The only one I want now would be he the new Kawasaki H2R.
Want to keep up with Derrick Pierce? Make sure to follow him on social media:
http://www.starfactorypr.com/derrick-pierce
http://www.starfactorypr.com/derrick-pierce-bio.html

http://www.Twitter.com/TheDPierce
http://www.Instagram.com/DerrickPierce
http://
www.Twitter.com/CrossfitDrop
http://www.Instagram.com/CrossfitDrop