If you watched the Dallas Cowboys in the late 90's, you didn't seen wide receiver Michael Irvin fail very often. But if you watch him on Twitter, well, let's just say he's not as successful.
The NFL Network analyst and former Pro Bowl wideout decided to shoot his shot at co-worker, NFL Network reporter Cynthia Frelund with a cringe-worthy tweet that set Twitter ablaze.
Frelund posted a picture of herself alongside Michael Irvin suggesting that he's the only person that can make a selfie stick cool.
Pretty sure @michaelirvin88 is the only person that makes a selfie stick cool… Happy #nfl Week 3! @NFLGameDay pic.twitter.com/GIG9PXNg9U

— cynthia frelund (@cfrelund) September 25, 2016
Nothing wrong with that?
Well, except this…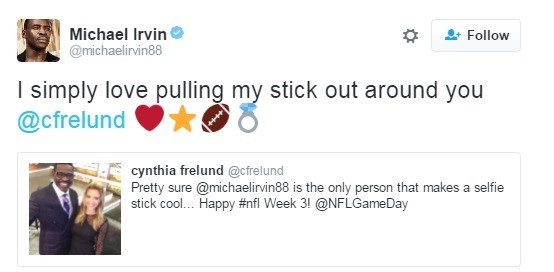 Oh my.
That's worth of a personal foul penalty.
For what it's worth, Michael Irvin's tweet was quickly deleted (guessing he meant to send it as a DM) and Cynthia Frelund hasn't made any public comments about it as of yet.
That said, I wouldn't be shocked to see the Dallas Cowboys legend issue an apology in the near future or perhaps even face a suspension from the NFL Network.
Perhaps next time he shouldn't flirt with his co-workers.