This past weekend the annual AV awards were held in Las Vegas, though absent from the festivities was Madison Ivy.
The brunette was nominated for multiple awards, so her lack of an appearance caught many by surprise. But the tiny 4'11 actress had good reason for missing the show as she was involved in an scary incident.
Madison Ivy confirmed the news herself on social media, posting a photo along with the following caption:
For anyone who doesn't know, I won't be posting stuff for a while. I was the passenger in a car about 10 days ago, I've been in the hospital ever since. , it's going to be a long slow road to recovery. I can still move my legs luckily, but i will be off my feet for a month maybe 2, maybe longer we are still unsure. All things happen for a reason and I am just happy to be alive. Live life, love and just know even when life is hard you have love of good people around you. #spreadloveandpositivity #SmileMore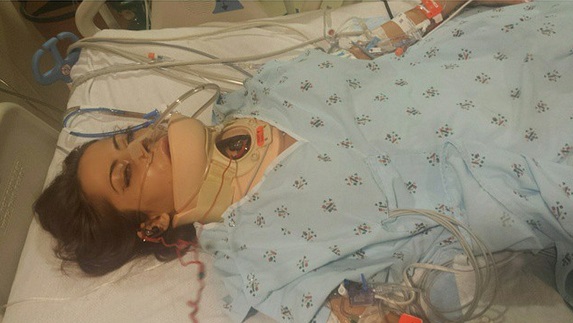 Thankfully, despite the scare, Madison Ivy is expected to be okay though judging by her photo, she's lucky things didn't turn out worse.
Our best wishes are with Miss Ivy and here's to a speedy recovery to all involved in the unfortunate situation.
Update: Madison Ivy posted an update on her condition.
Update: After many surgeries and a year hiatus, Madison Ivy is BACK
UPDATE PART TWO!!
MADISON IVY HAS A NEW BRAZZERS SCENE (and posts pictures from before and after the crash):
Madison Ivy Looks Back At Nearly Losing Her Life In Car Accident